# Robby Müller - filmfragments
As guestcurator for Artis in Den Bosch Zapp Magazine curated the exhibition 'Someone makes a Call and the Sun goes down'
featuring Robby Müller and Daragh Reeves (april 2007 - may 2007)

For this exhibition Müller selected film fragments from 10 films, to be shown simultaneously on several monitors. By isolating the images from the movie context, the observer experiences a concentrated view of Muller's legendary composition, camera dynamic, and lighting...

On Zapp Magazine #11 some excerpts of the chosen fragments are shown:

1 - Excerpt from 'Saint Jack'
Saint Jack (1979) director Peter Bogdanovich
00.00'.40''

2 - Excerpt from 'Paris Texas'
Paris, Texas (1984) directed by Wim Wenders, director of photography RM
00.03'.20''

3 - Excerpt from 'Dead Man'
Dead Man (1995) director Jim Jarmusch, cinematography RM
00.02'.20''

4 - Excerpt from 'Mystery Train'
Mystery Train (1989) director Jim Jarmusch, cinematography RM
00.02'.40''

5 - Excerpt from 'Ghost Dog'
Ghost Dog: The Way of the Samurai (1999) directed by Jim Jarmusch,
cinematography RM
00.03'.24''

6 - Excerpt from 'Breaking the Waves'
Breaking the Waves (1996) director Lars von Trier, cinematography RM
00.00'.46''
Robby Müller (1940) graduated from the Nederlandse Film Academie in 1964 and has operated the camera on more that 60 films and countless television productions. He has worked with renowned and unorthodox filmmakers including Wim Wenders, Jim Jarmusch, Peter Bogdanovich and Lars von Trier.
Müller has received various prestigious prizes for his camerawork.

http://www.imdb.com/name/nm0005810
------------------------------------------------------
# Daragh Reeves - cover & artist videos
- Zapp Magazine #11 dvd cover by Daragh Reeves.
- First excerpt from 'The Fountains of New York' 2005
00.00'.48''

- Excerpt from 'Night Moves II' 2007
00.04'.12''
The film was shown in the exhibition 'Someone makes a Call and the Sun goes down' at Artis Den Bosch April/May 2007 curated by Zapp Magazine (see press release on Zapp news)

- Second excerpt from 'The Fountains of New York' 2005
00.01'.12''

Daragh Reeves (1974) took his BA at the Camberwell College of Arts in London and his MFA at the School of Visual Arts in New York. From 2002-2004 he stayed at De Ateliers in Amsterdam. Since then his drawings, sketches, photo collages, videos and films have found their way to exhibitions in a large number of cities, including Amsterdam, Tokyo and New York.

Reeves is represented by Ellen de Bruijne Projects
www.edbprojects.nl

------------------------------------------------------
# Folkert de Jong - exhibition review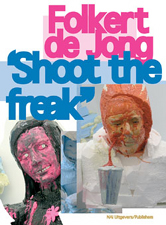 - 'Shoot the Freak' Museum Het Domein, Sittard.
September 03 2005 - October 30 2005
00.04'.50''

Installations shown in following order:
- Cyan-kali (2005)
- Meet me and mister Beefy (2002)
- Life's Illusions (2003)
- Medusa's First Move: The Council (2005)

more info see press release Museum Het Domein: www.hetdomein.nl
(click modern art, then click archive modern art, scroll down to Shoot the Freak)

Publication 'Shoot the Freak' published at NAI publishers www.naipublishers.nl

More info: www.folkertdejong.com
------------------------------------------------------
# Olafur Eliasson - exhibition review
- 'Notion Motion', Museum Boijmans van Beuningen, Rotterdam.
October 8 2005 - January 8 2006

first part 00.01'.33''
second part 00.03'.12''
third part 00.01'.26''

For Museum Boijmans Van Beuningen, Eliasson developed one big installation in 3 spaces, focussing on the visualization of light-waves and the variable interaction of light and water.
In the project a direct, physical relationship emerges between the individual / the visitor and his surroundings ...

www.olafureliasson.net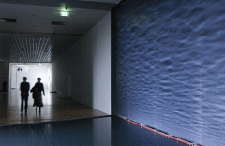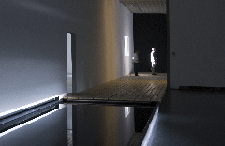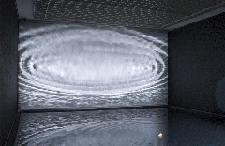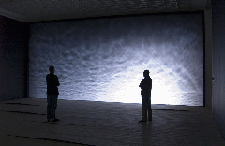 (Pictures: website Museum Boijmans van Beuningen)
------------------------------------------------------
# 4th Berlin Biennial for Contemporary Art - exhibition review
- 'Of Mice and Men', various locations, Berlin.
March 25 2006 - June 5 2006
00.03'.54''
The 4th berlin biennial for contemporary art, was curated by Maurizio Cattelan, Massimiliano Gioni and Ali Subotnick.

Works by 76 artists and artist groups were on display at twelve venues along Auguststrasse in Berlin's Mitte district.
more info on Berlin Biennale:
www.berlinbiennale.info
Works shown on Zapp Magazine #11:

- Martin Creed - installation
- Work No.227 'The Lights going on and off' (2000)
www.martincreed.com

- Paul mcCarthy - installation
- 'Bang-Bang Room' 1992
http://en.wikipedia.org/wiki/Paul_McCarthy (links to musea/galleries)

- Oliver Croy & Oliver Elser - installation
- 'Special Models. The 387 Houses of Peter Fritz, insurance clerk from Vienna'.
A Project by Oliver Croy and Oliver Elser who stumbled across the work of a Viennese insurance clerk in a bric-a-brac shop: 387 models and approx. 3,000 slides. More info & images see:
http://www.baunetz.de/arch/sondermodelle/frame_engl.htm














- Jeremy Deller - audio
- 'Biennal Song Auguststrasse', by Klezmer Chidesch, 2006
www.jeremy-deller.co.uk
------------------------------------------------------
- 'Random Selection' 1996, 00.12'.45
excerpt 00.05'.31''
Martin Shiel about Random Selection:
".....when I look back on the making of Random - I remember it being quite difficult to shoot despite it looking very simple.
We shot on a big old clunky ArriFlex 16 mm camera so my decisions on which people to follow had to be made very quickly (as we only had a certain amount of footage)
and though I wanted my choices to be as random as possible, I realised even once I'd decided to do away with the usual selection process
– my choices were still influenced by one thing or another – which is an interesting dilemma....."

------------------------------------------------------
# Robert Smithson - installation

- 'Broken Circle, Spiral Hill', Emmen.
00.06'.55''

This earthwork by Robert Smithson (1938 - 1973) was created in the summer of 1971 as part of the outdoor exhibition 'Sonsbeek buiten de Perken' in a sandquarry in Emmen,The Netherlands.

The work is one of the earthworks that still exists.

It's not too easy to find, but the site can still be visited.

To view 'Broken Circle, Spiral Hill' please contact:
De Boer, Emmerhoutstraat 150,
7814 XX Emmen, The Netherlands.
Telephone: + 31 591 623037

more info see website Robert Smithson: www.robertsmithson.com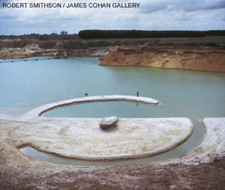 ------------------------------------------------------
# Germaine Kruip - installation
- 'The Wavering Skies', a project for Frieze Artfair, London 2005 00.02'.55''

Curated by :
Martijn van Nieuwenhuyzen, Stedelijk Museum Bureau Amsterdam
Polly Staple, Frieze Projects

Video by:
Daniëlle Kruip

Supported by:
Mondriaan Foundation, Amsterdam
Frieze Projects, London

Technical realisation:
Expotech, Amsterdam
Stedelijk Museum Amsterdam

Germaine Kruip is represented by Juliettte Jongma Gallery Amsterdam.
More info: www.juliettejongma.com
------------------------------------------------------
- 'Echoes of Despair' 2007
00.04'.18''

Edit for Zapp Magazine

the title of the video is named after the soundtrack Echoes of despair performed by Götterdämerung from the cd Morphia.

Götterdämerung is the band of Dutch artist Marc Bijl.

L.A.Raeven (Liesbeth & Angelique Raeven) are represented by
Ellen de Bruijne Projects Amsterdam.

More info:: www.edbprojects.nl

------------------------------------------------------
# Matthew Monahan - exhibition review

- untitled, 00.04'.53''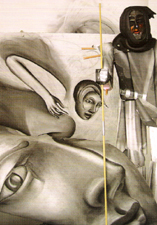 Galerie Fons Welters Amsterdam
November 26 2006 - January 21 2007

More info: www.fonswelters.nl and www.antonkerngallery.com
------------------------------------------------------

# Sema Bekirovic - artist video
- 'Birds of Prey' 2005
00.01'.56''

Credits for film:
Thanks to The Birds
Hay Nelissen
Belastingkantoor Roermond
Nina & Rob van Dipten
Theo Bezem
Tobias Mulders
Roos van As
Michiel de Wit

More info: www.semabekirovic.nl
------------------------------------------------------
# Karen Kilimnik - exhibition review

- untitled, 00.03'.16''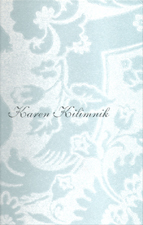 Palazetto Tito, Venice. Produced by Fondazione Bevilacqua La Masa.

June 8 2005 - October 3 2005

The show took place during the Venice Biennial 2005
Footage was shot with a digital phone
Some images were taken from the exhibition cataloque published by the Fondazione Bevilacqua La Masa
------------------------------------------------------
# Amie Dicke - exhibition review
- 'Private Property' 00.01'.28''

Peres Projects, Berlin.
March 25 2006 - April 22 2006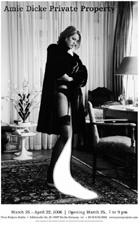 Amie Dicke is represented by Diana Stigter Gallery Amsterdam
More info: www.dianastigter.nl and www.peresprojects.com
------------------------------------------------------

# The 15 Minute Show - performances
Performances at various locations Amsterdam.
00.12'.08''

May 25 2005

Shown on Zapp Magazine #11:
-Matias Faldbakken & Gardar Eide Einarsson
-Karl Holmqvist
-Mathieu Tonetti
-Bubble Star
-Olivier Babin

Stedelijk Museum Bureau Amsterdam presented a one day project: 'The 15 Minutes Show, initiated by guest curators Cristina Ricupero and Alexis Vaillant.
The audience embarked on a (bike)tour through the city, encountering works of art in unexpected places and situations.
Each work in the show lasted exactly 15 minutes. A variety of public locations in central Amsterdam were host to the artworks: a fitness club, the Central Station, a motorbike garage, a Red Light room.

Participating artists:
Olivier Babin, Jean-Luc Blanc, Bubble Star,Dimitri Chamblas, Brice Dellsperger, Matias Faldbakken & Gardar Eide Einarsson, Karl Holmqvist, Annika Lundgren, Jean-François Moriceau & Petra Mrzyk, Michael Roy, Annika Ström, Mathieu Tonetti, Jean-Luc Verna, Jean-Michel Wicker.

------------------------------------------------------
# Credits

Zapp Magazine #11 - May 2007

Editors: Rob van de Ven & Corinne Groot

Zapp Magazine #11 is made possible by the postproduction fund
of Artis Den Bosch.
www.artisdenbosch.nl

Thanks to all the artists, galleries and museums involved

For information, subscriptions and contributions contact Zapp Magazine
www.zappmagazine.nl mail@zappmagazine.nl

© Zapp Magazine and the artists